If you've never experienced Halloween on Maui- you are in for a trick-or-TREAT! ?
Parties, parades, celebrations, and live music events are held in many places on the island and Maui residents take their celebrations very seriously!
Here are just a few family-friendly and adult-themed party ideas to enjoy some tropical-style Halloween fun.
Happy Halloween and Enjoy!
Lahaina Town–  October 31st– Halloween in Lahaina Town!  Probably one of the most well-known Halloween events. This is one of the biggest Halloween parties on Maui!  It is often referred to as the "Mardi Gras of the Pacific".  Front Street is closed off so visitors and
residents can stroll up and down the street as they celebrate and take in the sights and sounds of the celebration.  Make sure you join in and wear a costume! The party starts before sunset. They have a Keiki (children) costume parade that starts around 4pm, and many of the local bars and restaurants have costume contests for adults with various prizes.
Tip: Parking is easier to find in Lahaina this night if you arrive before 3pm. Take a boat ride from Maalaea Harbor to Lahaina Harbor to beat some of the traffic. There are numerous events happening on Halloween. For more information, please visit the Lahaina Town website here: https://lahainatown.com/halloween-party.php
For more information, please visit the Lahaina Town website here: https://lahainatown.com/halloween-party.php
Video credits: Kathy McCartney
Lahaina Cannery Mall will provide a fun and safe place for families to enjoy Halloween with their Halloween Cannery Kids Night.  Enjoy trick-or-treating, face painting, balloon twisting, games, and a Keiki costume contest on Wednesday, Oct. 31 from 5:00 p.m. to 8:00 p.m. 
Local magician Holden Mowat will perform dazzling family-friendly magic at 5:00 p.m. followed by Lahaina Cannery's Keiki Costume Contest at 6:00 p.m.  More than a dozen great prizes from Maui Toy Works and Hawaiian Island Creations will be awarded in four age groups: 0-2, 3-4, 5-8, and 9-12 years old. This year, a new category has been added for family or group costumes!
Halloween Cannery Kids Night Schedule of Events:
5:00- 5:45pm: Family Magic Show featuring Holden Mowat
6:00 pm: Keiki Costume Contest and Family Costume Contest
5:00-8:00pm: Trick-or-treating store to store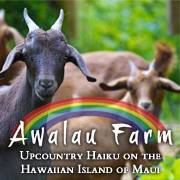 Awalua Farm– 1008 Awalau Rd, Haiku, Hawaii 96708  This farm located in Haiku offers two events- one kid-friendly and one for adults who seek something a bit more dark and mysterious!
Kid-Friendly:
Myths of Avalon Family Farm TourSaturday, October 27th from 12-4pm
Maui's most Magical Farm Tour!  Walk thru Enchanted Gardens. Meet Mythological Creatures (watch for mermaids!).  Follow the Map & Collect Treasures. Family Friendly, Kid Oriented Play Park.
Adults: Haunted Haiku Hike 2018
BY RESERVATION ONLY:  One tour every Friday night in October from 5-6pm, limited to 20 guests. Special event tour on Wednesday, October 31st!  
For more information, email Awalua Farm at [email protected] to reserve your spot or please contact Awalua Farm directly
: (808) 878-8091
Mulligan's On The Blue- Kihei, HI.  Halloween Party October 31st
Halloween Party and Live Music with Maui's own Soul Kitchen. This amazing band was voted "Best Maui Band 2017" by Maui Times Weekly.  When on the island and seeking some of the best live music around, you need to experience Soul Kitchen Maui!  Visit the band's website here:
https://www.soulkitchenmaui.com/home
Soul Kitchen will be rockin' Mulligan's on the Blue with their 7 Soul Kitchen chefs in our musical kitchen! We will be serving up HOT non-stop helpings of our best dancing tunes!
When:  Wednesday, October 31st, 7pm- 9pm
Where:  Mulligans on the Blue, 100 Kaukahi St, Kihei, HI 96753
Mulligan's on the Blue – Hot Wailea Nights with Soul Kitchen's new enhanced 7-piece band
from 7:00-9:00 PM.  $15 cover is waived if you have $15 worth of food and drink.
Soul Kitchen is acoustic-infused music alchemy, crossing the genres of Soul, Blues, Jazz, Zydeco, Middle Eastern & Rock! You cannot help but "FEEL" their unforgettable originals and eclectic covers! Tempa's searing, soulful, award-winning voice (Best Colorado Blues Band, Best Soul Album Award) & Naor's exotic, sweet style (Former Israeli Idol finalist) with the group's impeccable four-part harmonies, Violin, Cajon, Sax, Piano, Guitar, and Bass makes this band a "must see" Maui experience!
Dinner reservations are highly recommended at Mulligan's for the best seats. Call 808-874-1131 for reservations.